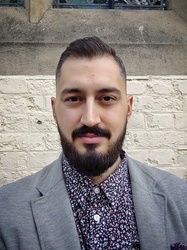 Pastor Pavle Trajkovski 



   
front view (Set back from Whaddon Way)  

 
 
  rear view (parking off Warwick Road)

Thank you for visiting our website. Subsequent to the governmental lockdown in response to minimising the spread of the Coronavirus (COVID-19) we are now meeting in person and you are welcome to join us. There are some services which continue to run from the Zoom platform for now and those details are available under the Links tab. Sanitising stations are available and masks are optional.



Recordings of some sermons and musical items can be found on our YouTube channel under the Resources & Recordings tab


~~~~~~~~~~~~~~~~~~~~~~~~~~~~~~~~~~~


Welcome! We're glad you decided to visit our website. You will note from our name that 'community' is at our centre; we are here to serve you in the best way we can. West Bletchley SDA (Seventh-day Adventist) Community Church worships in the West Bletchley Community Centre, Porchester Close, Bletchley MK3 6BH on Saturdays, which we believe to be the Sabbath and there is plenty of parking at the rear. Programmes for the year are ongoing, to which you are most welcome, so do keep coming back to check on updates and the Events page where you can find more details.

Our current Pastor is Pavle Trajkovki, who also ministers at our other branch at Milton Keynes SDA Church, 1 Veryan Place, Fishermead, MK6 2DH. You will be warmly welcomed at any congregation you wish to visit. Pastor Trajkovski, (affectionately known as Pastor Pavle) can be contacted on 07490 444335 or by email
Mission Statement
To bring hope and the Gospel of Jesus Christ to the West Bletchley community in a relevant and practical way.

Service Times:
Saturday (Sabbath)

10.00 - 10.45          Discovery Bible study
10.00 - 11.30          A separate weekly children's programme runs alongside the above
11.00 - 12.45          Family Service
17.00 - 18.00          Afternoon Bible Study online
14.00 - 15.45          Pathfinder Club (every first and second week)
Wednesday

19.00 - 20.00          Prayer Meeting online