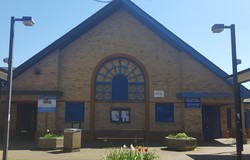 front view (Whaddon Way)  

 
 
  rear view (parking off Warwick Road)

Welcome! We're glad you decided to visit our website. You will note from our name that 'community' is at our centre; we are here to serve you in the best way we can. West Bletchley SDA (Seventh-day Adventist) Community Church worships in the West Bletchley Community Centre, Porchester Close, Bletchley MK3 6BH on Saturdays, which we believe to be the Sabbath and there is plenty of parking at the rear. There are a number of programmes that have been planned for the year, to which you are most welcome, so do keep coming back to check on updates.

Our current Pastor is Michael Anim, who also ministers at our other branch at  Milton Keynes SDA Church, 1 Veryan Place, Fishermead, MK6 2DH. You will be warmly welcomed at any congregation you wish to visit. Pastor Anim can be contacted on 07801 889274.
We are a growing congregation of around 70 regular attendees, comprising young, old and in between and we embrace each other as a Church family. 

Mission Statement
To bring hope and the gospel of Jesus Christ to the West Bletchley community in a relevant and practical way.

Service Times:
Saturday (Sabbath)
09.00 - 09.25          Morning prayers
09.30 - 11.00          Sabbath School (Bible study)
A separate weekly children's programme
runs alongside the Sabbath School.
11.00 - 12.45          Family Service
13.30 - 14.30          Afternoon Bible Study
14.00 - 15.45          Pathfinder Club 
(every first and second week)
Wednesday

19.00 - 20.00           Prayer Meeting
Held at the Community Centre weekly. (except first Wednesday of the month)